1990 – Dances With Wolves (*****)
Rich in detail, emotion and respect. Costner has such a strong handle on the mood and pace of the film, it's hard not to get taken away in the majestic sweep.
What should have won?
Goodfellas – Despite Dances With Wolves' excellence, Scorsese's gangster film is a masterclass in film form and a visceral delight.
1991 – The Silence of the Lambs (*****)
A remarkable adaptation; form, excitement, performance and technicals all come together perfectly to create an unforgettable film that will stay with the viewer forever.
What should have won?
The Silence of the Lambs – As much as I'd have loved Beauty and the Beast to have won, I cannot look past or find fault in Silence.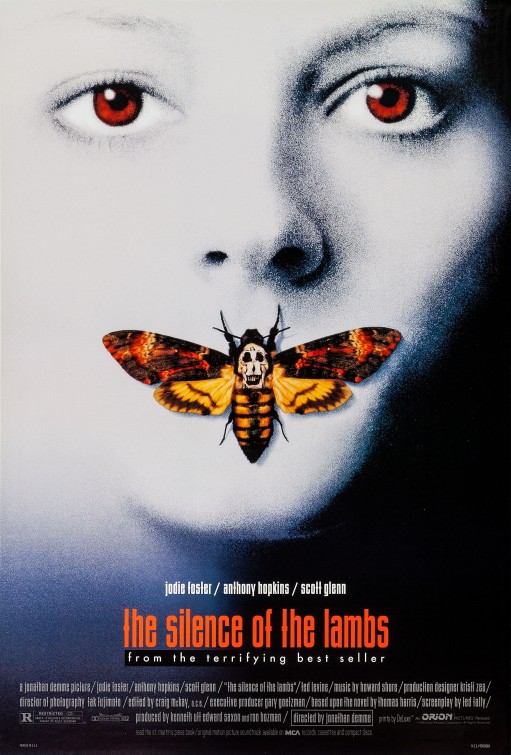 1992 - Unforgiven (*****)
Clint Eastwood's film could have been subtitled, 'The Death of the Western'. Using his own persona and changes in censorship and audience involvement Eastwood creates a work of adult brilliance.
What should have won?
Unforgiven – To deconstruct a genre while showing it so much respect is an impressive feat and one that Eastwood achieves perfectly.
1993 – Schindler's List (*****)
It's hard to describe the affect that this film has on a viewer, with no trace of sentimentality or manipulation (see the soul of Fiennes' monster or the some of the questionable antics of Schindler himself), Spielberg's film is an unforgettable and emotional tour-de-force.
What should have won?
Schindler's List – Epic, emotional and technically flawless, the film stimulates heart and mind. Perfect OSCAR material.
1994 – Forrest Gump (*****)
A joyous and entertaining journey through America with a loveable tour guide. The flecks of adult material make the journey stronger still.
What should have won?
The Shawshank Redemption – Brutal, deeply moving and full of hope and inspiration. A wonderfully story adapted brilliantly for the big screen.
1995 - Braveheart (****)
Historically inaccurate it may be but bloody good fun? Absolutely.
What should have won?
Sense and Sensibility – The restraint of the historical drama has never been captured as well as in Ang Lee's quiet and subtle masterpiece. Brilliant performances, wonderful locations and paced superbly.
1996 – The English Patient (*****)
The intimacy of love is played out on an epic scale. Like David Lean's Doctor Zhivago, Anthony Minghella's film has an old fashioned lyricism and literal quality that is so rare to find in modern film.
What should have won?
Jerry Maguire – Although not as worthy, Cameron Crowe's drama/romance/comedy is the epitome of feel good film. Inspiring and pure elation. Although I would have been just as happy with Fargo, Secrets & Lies or The English Patient winning. A close year.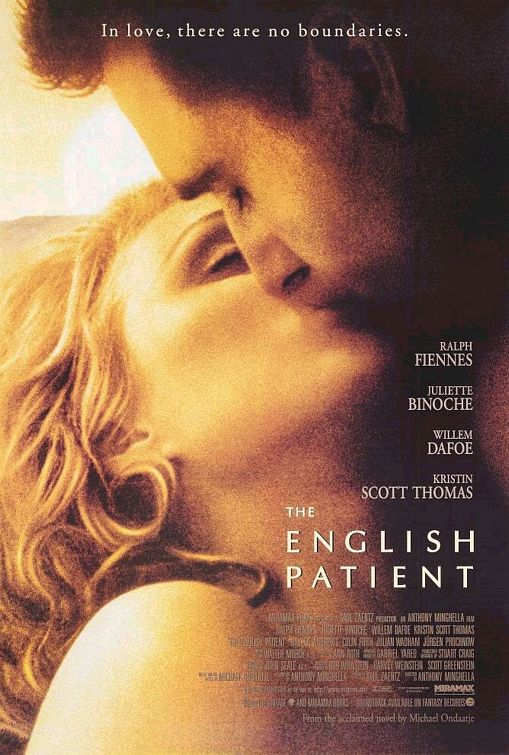 1997 - Titanic (****)
Although filled with a number of problems (the modern day footage, Celine Dion) this remains a technically ambitious and impressive piece of work with an entertaining romance at the centre.
What should have won?
Good Will Hunting – Although I am happy to see the Academy award films that matter and will still mean something to a large number of people in years to come (Titanic through and through) Good Will Hunting contains a more moving and detailed romance at the centre of the film, three to be exact – Will's relationships with Sean Maguire, Skyler and Chuckie.
1998 – Shakespeare in Love (***)
A fun ensemble film but a little too pithy and self congratulatory. It doesn't do a lot wrong but hardly rocks the boat either. Best Picture winners need to do more than simply entertain.
What should have won?
The Thin Red Line – Or at least Saving Private Ryan. Ambitious, hypnotic and unique, The Thin Red Line manages to achieve so much and on such a grand scale.
1999 – American Beauty (*****)
Alan Ball's biting script is given every compliment and room to flourish. From Conrad Hall's gorgeous cinematography to Bening and Spacey's excellent central performances, everything is so in sync and all work to create a modern masterpiece.
What should have won?
American Beauty - Even with The Insider and The Green Mile for competition, the academy chose wisely.
2000 - Gladiator (*****)
Ridley Scott manages to perfectly blend old fashioned genre storytelling with modern filmmaking. Excellent performances, great score and cinematography and an involving story.
What should have won?
Gladiator - A true old fashioned 'worthy' winner.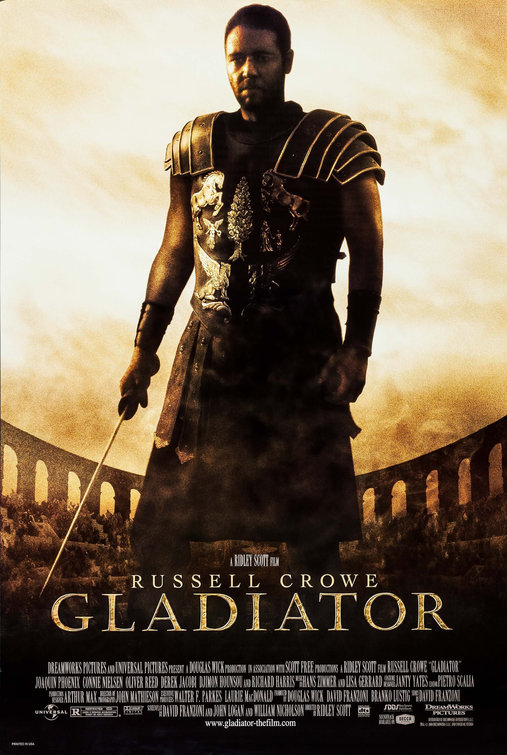 2001 – A Beautiful Mind (***)
Well performed and technically sound but slightly manipulative and a little forgettable. There is the sense that everyone involved is trying a little too hard and it makes watching the film a less enjoyable experience.
What should have won?
The Lord of the Rings: The Fellowship of the Ring – Iconic and unforgettable. The best part in Peter Jackson's remarkable trilogy. This is the type of film the academy should reward; epic, emotional, and escapist.
2002 Chicago (**)
While it's nice to see a sexy, stylish musical, this just fails somewhere along the line. Too long and too unengaging. I don't care about the characters or the situation they are in.
What should have won?
The Lord of the Rings: The Two Towers – While not as strong as Fellowship, this middle part is still a better film than any of the other nominees.
2003 – The Lord of the Ringa: The Return of the King (****)
While it still contains the superlatives of Fellowship and Two Towers there are a few too many holes in this final part. The film really is in need of a serious edit; however, the emotional payoff is exactly what is required.
What should have won?
Lost In Translation – So nuanced, entertaining and engaging, varying from hypnotic dream to the old fashioned dramedy of Billy Wilder. Coppola nails every intention she has.
2004 – Million Dollar Baby (***)
A decent film but little more.
What should have won?
Sideways – Alexander Payne's lyrical ode to friendship, love and wine is pure adult joy. Absolutely masterfully constructed from scene to scene and as a whole. The writing flows like the vino on screen.
2005 - Crash (**)
While it does pack an emotional punch the film is far too manipulative and tries to present the notion that we're all racist so what the hell.
What should have won?
Brokeback Mountain – Any other nominee that year would have been a more deserved winner but Ang Lee's love story is perfect. Deeply profound and moving and containing the finest performance by an actor since De Niro in Raging Bull. This is probably the worst decision the academy ever made.
2006 – The Departed (***)
Inferior to the film it's adapted from, Infernal Affairs; Scorsese's gangster film is entertaining but is too long and technically flawed.
What should have won?
Little Miss Sunshine – A pretty poor year, although not 'worthy' Little Miss Sunshine is the most enjoyable and well made film on the list.
2007 – No Country For Old Men (****)
The Coen Brothers anti-Western is incredibly intense and contains a black streak of humour that makes the film hard not to take pleasure in. But it isn't perfect and this is epitomised by the unsatisfying ending.
What should have won?
There Will Be Blood – Paul Thomas Anderson's film is elegiac and m majestic, it represents a true monster but never judges him or takes advantage of him. Filmmaking rarely gets much better than this.
2008 – Slumdog Millionaire (**)
Contrived, silly and manipulative. The film tries to be a modern fairytale but unfortunately fails, despite following the character over time I feel nothing for them, therefore rendering their plight meaningless.
What should have won?
The Curious Case of Benjamin Button – Now this is a modern fairytale. Despite every effort valiant effort from Fincher to steer clear of easy sentiment the film still manages to engage and move the audience.
2009 – The Hurt Locker (****)
A solid, exciting film that explores the complexities of war, very cinematic and technically brilliant.
What should have won?
Up – Although Avatar would have been the most 'worthy' winner considering the affects it has had on the cinema since its release and the fact that it will still matter in years to come, Pixar's Up is the finest film nominated. Perfectly balanced for children and adults, the film is brave, colourful, moving and a real hoot.
2010 – The King's Speech (****)
A warm tale of friendship set against an interesting historical backdrop. The film succeeds because of its intimacy and on the strength of its performances.
What should have won?
The Social Network – As with the previous year, although the winner is a decent film, in years to come it will be forgotten. The Social Network defines a generation and 50 years down the line will be one of the most pertinent documents of this. And not only does the film succeed for these reasons but it is emotional, thought provoking and technically the finest film of the year to boot.